More Harmony have kicked off 2022 in spectacular fashion, with rehearsals fun of fun!
The start of a new year is always a great time to set goals and our chorus has been doing just that, lately. We have coaching coming up very soon, with the wonderful Emma Shanks and her wife Rachel. This brilliant duo came to coach us back in 2020 and we found our day with them exceptionally inspirational, so we can't wait to show off what we've been learning since and hone our skills even more! Our long term goal is to compete at the Ladies Association of British Barbershop Singers' annual convention, so we are working hard to get those harmonies beautifully tuned and add a little extra pazazz to our performances. Did someone say choreography?!
We held our AGM this month and our fabulous bass Liz was presented with the Pauline Gobbitt Award for Musicality by our Musical Director, Lesley. This award, in honour of our much-missed founder member, is given to someone who has worked exceptionally hard and shown high levels of musical achievement and we all agreed that Liz is an incredibly worthy recipient! Our annual "Barbershopper of The Year" award - a trophy given to someone who has gone "above and beyond" in what they do for chorus both in and out of rehearsals - was also voted on by our members and ended up being shared between Liz, Sue from our baritone section and Emma from our leads.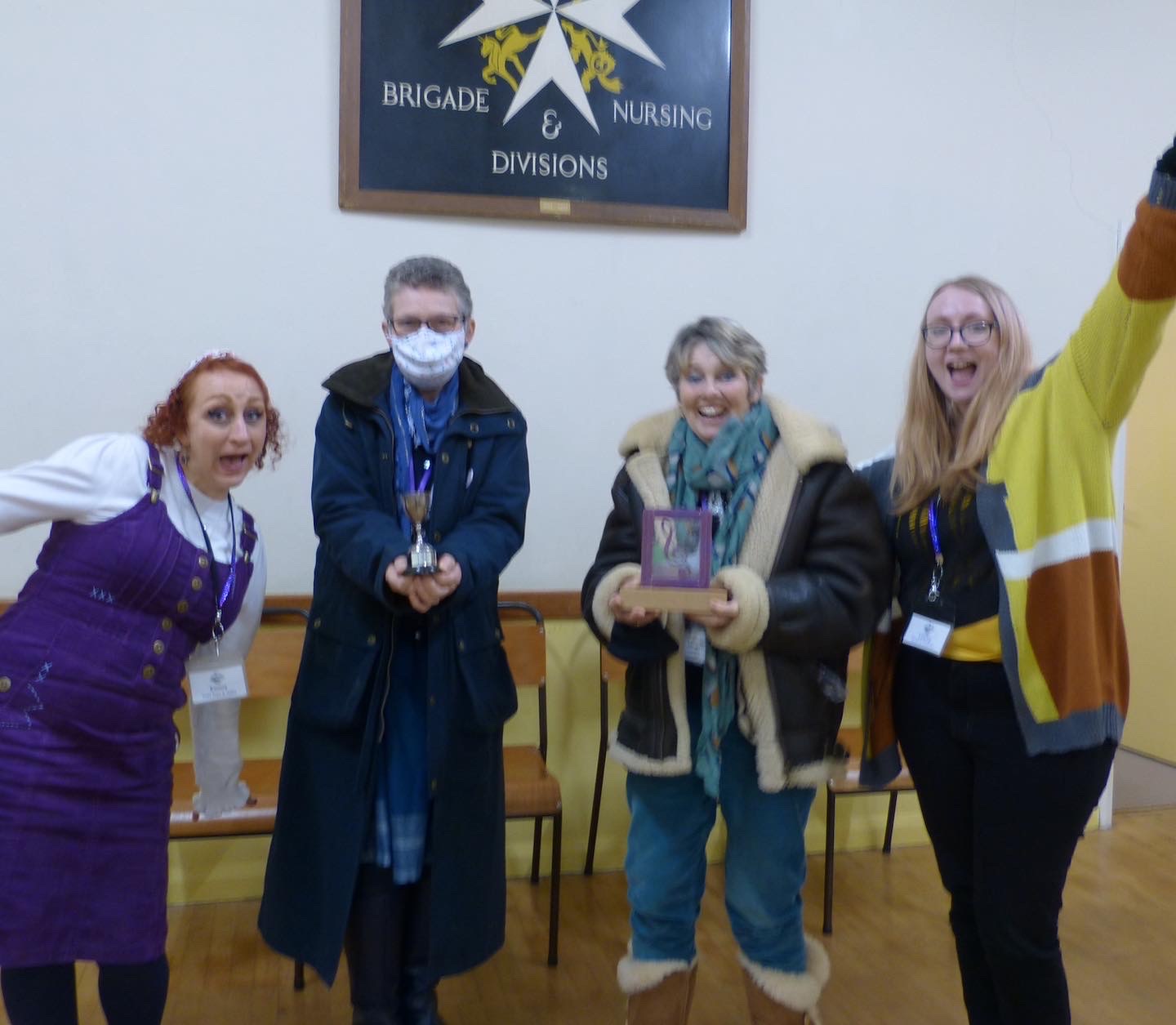 Our committee had a bit of a change, with bari Sue stepping down as treasurer after five years in the role. She handed the reigns over to Helen, also a bari, who we know will do an amazing job of stepping into some very big and well-respected shoes! A huge thank you to Sue for all she has done for us over the years, and for all the help she continues to give to chorus.
There has been a change in membership too, with a couple of singers deciding to move on to pastures new, and all of the attendees of our "Merry Singmas" Christmas course choosing to join the chorus when we returned from our festive break! We're delighted to welcome these fabulous new singers and have been thrilled with the wonderful comments they've made about joining the More Harmony family.
"Incredibly welcoming"
and
"really friendly and so much fun"
are just two of the lovely things that have been said! If you'd like to get involved, drop us a line at
contact@moreharmony.co.uk
- we are always open to new singers and no experience is required. We are especially keen to find a few extra members for our bass section at the moment, but we're open to singers of all ranges, so please do come along and give it a try!
With the sad news that Wadebridge Festival of Speech & Music have had to cancel the music side of the competition, we are no longer able to defend the trophy we won in 2020 and are hoping to perform in a concert at Wadebridge Town Hall instead, along with the other groups who would have competed in the festival. The date for this is TBC, but we will let you all know as soon as it's announced!
That's all that remains to say for January, but we'll be back with news of our coaching triumphs next month!