More Harmony are jubilee ready!
With the Queen's Platinum Jubliee just around the corner, we've been rehearsing extra hard in order to be ready for the upcoming celebrations! We're thrilled to be performing a song written especially for the occasion on Thursday 2nd June, as a beacon is lit on Jubilee Fields in Wadebridge at 9:45pm. Choirs and music groups across Britain will be singing this special song - A Life Lived With Grace - as beacons are lit in unison all over the UK, in honour of the Queen's 70 years on the throne. To have been asked to perform this song as our own town's beacon is lit is an absolute honour and we are delighted to be a part of something so important. It's bound to be a memorable event, with lots of music and festivities planned, so if you're in the Wadebridge area, please do come along! The fun starts at 2:30pm, with Proms In The Park and carries on until late evening. We'll be singing some of our repertoire in the lead-up to the beacon lighting, so come and join us if you can.

Our Jubilee plans stretch further into the weekend, too. On Saturday 4th June, we'll be at Trago Mills from 11am-1pm, singing and fundraising for the chorus as well as for our charity of the year, Truro Samaritans. If you spot us whilst you're out doing some shopping, be sure to say hello!

Alongside our additional rehearsals and Jubilee preparations, we've been working on our Summer repertoire, which spans everything from Abba to Jessie J. Thursday nights at the Ambulance Hall have been full of laughter as well as song and we were delighted to officially welcome the lovely Barbara to our baritone section this month, after she passed her audition and became a full member of More Harmony. Congratulations, Babara!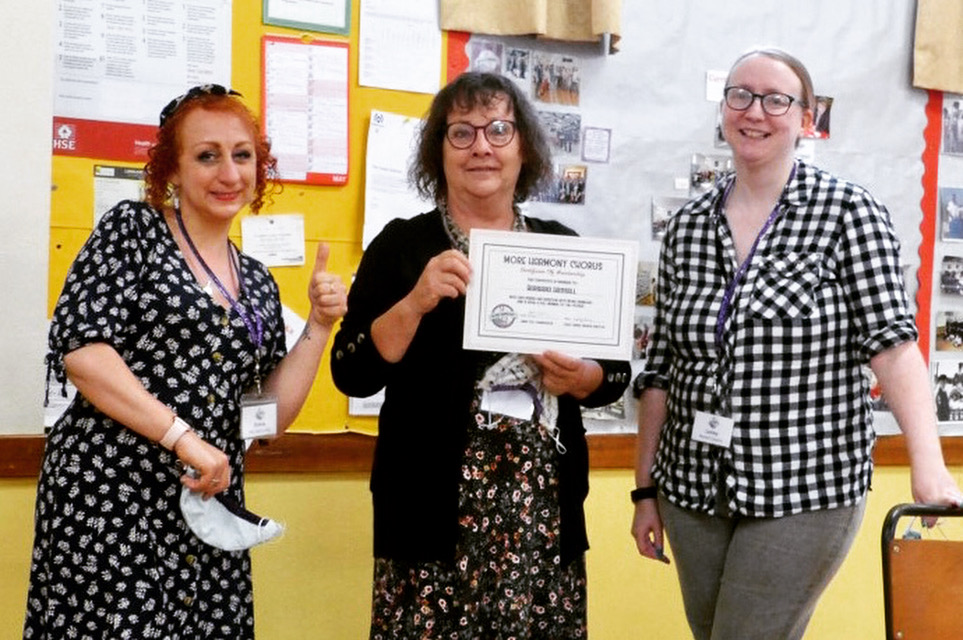 If you're thinking "I fancy doing that!" then we have excellent news! Our plans for a day-course, teaching a song in four-part harmony to the women of Bodmin are gathering pace and we hope to be heading to The Old Library in early July. Keep your eyes peeled for dates and times coming VERY soon. If you've never sung in a group before, a course is a great taster; you'll have a chance to see what it's like, meet some friendly, helpful people, boost your confidence and hopefully have a lot of fun! Drop us a line if you'd like to find out more or to reserve your place.

And of course, as always, if you simply can't wait until July, we're at Wadebridge Ambulance Hall every Thursday night from 7:15pm and we are always happy to welcome new singers. Come along and give it a try!